Watch our video above OR listen to the podcast!
I was studying yoga and my teacher Rolf Gates, he was just so passionate about this phrase that "we want our students to feel successful above everything else"…For every one criticism you need nine compliments to balance something out..I practiced this in my high school art classroom and the workshops I currently teach…I want my students to feel they've succeeded in the art process…
Heidi Parkes wanted to be a housewife when she grew up.
According to her fifth-grade teacher, "housewife" wasn't a "profession."
Art teacher, Parkes's second choice, was a passion she pursued decades later at the School of the Art Institute of Chicago. After an enriching nine years of teaching at a Chicagoland High School, Parkes left. She embarked on her successful solo career as an artist and teacher, specializing in hand quilting and yoga.
We discuss her challenges while learning to read…
and her mom's strategy to help her succeed. We explore Parkes's special public school art program where she sought refuge in making things, where she could express herself and feel a success that literacy denied her.
In many ways, Parkes is the housewife she always wanted to be – she calls her lifestyle "thrifty housewife," one that embraces sustainable living.
Her simplicity is far from boring!
Parkes's life is enriched by her family, her students, and of course, her quilt making.
Her work and life boundaries are constantly blurred as she quilts watching her favorite television shows or spending time with her aunt and nephew.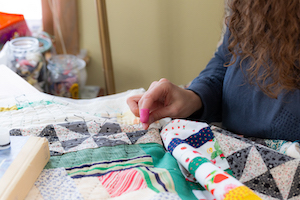 Parkes credits her education at the School of the Art Institute of Chicago as pivotal toward developing her art and abilities to deal with the art world. Equally important to her evolution are her mom and her yoga teacher, Rolf Gates, models who guide her studio, social media, and teaching practices.
In this episode, find out:
how Parkes became addicted to quilting,
what she taught her high school art students (inflatable, anyone?)
her latest project (her third quilt pattern)
You won't want to miss Heidi Parkes, the wholehearted housewife who lives in both the art and craft worlds!
Find Parkes at heidiparkes.com
Instagram: @heidi.parkes
Heidi Parkes Bio:
Before Heidi Parkes was born in Chicago, IL in 1982, her grandmother organized a collaborative family quilt to commemorate her birth. This set the tone for a life centered on the handmade- raised in a home where sewing, mending, cooking, canning, woodworking, photography, ceramics, painting, and plasterwork were the norm.
Now based in Milwaukee, her quilting and mending celebrate the hand, and her works tug at memories and shared experience. Often using specific textiles, like an heirloom tablecloth, bed sheet, or cloth teabag, Heidi adds subtle meaning and material memory from the start. Ever curious, she works with a variety of quilting techniques including visible hand piecing and knots, improvisation, patchwork, and applique.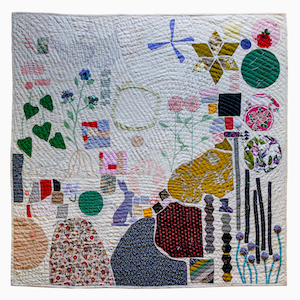 Heidi pursues her passion for teaching by lecturing and leading workshops across the country and shares her creative process with thousands on Instagram.
Heidi has exhibited in art and textile museums across the country and is a current resident artist at Milwaukee's Lake Park through the ARTservancy with Gallery 224.
Additionally, Heidi lives a handmade lifestyle, sewing her own clothes, fermenting, eating from pottery she made a decade ago, and practicing hand yoga, which she shares with other creatives on her YouTube channel.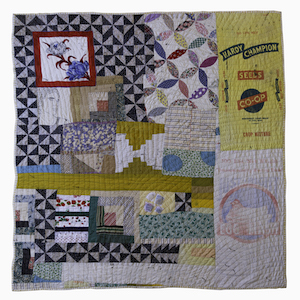 Catch her at heidiparkes.com