Watch our video above OR listen to the podcast below!
I read a Maya Angelou essay where she wrote that women raising their children, feeding them, bathing them, and schooling them in the expectation of beauty…in the home, in our lives, this expectation of beauty is not an extra…the local school board can't cut out art in the budget…art is not an extra, it's part of what makes a life flourish…- Diane Fine
Diane Fine is a generous artist.
Fine makes work that touches peoples every day lives. With her artist books, prints, or embroidery – Fine's art connects with nature and often – humor. In addition to her long-standing collaborative work, she also embroiders sublime art for family and fundraisers.
I met Fine while she lectured as a visiting artist in the School of Visual Arts at Penn State. Luckily for me, part of my then job as manager of the Zoller gallery included hosting such luminaries. Fine graciously took the time to discuss my own work.
We connected on so many levels: textiles, book arts, and a general sense of joy in each other's presence. As I changed my podcast format from solo to interview, I immediately thought of Fine and contacted her to be on the show.
Thankfully, she agreed.
Now you too get to dig deep into her art, teaching, and sense of humor!

Discover Fine's sublime embroidered work…
Detours, an artist book created with Kathy Kuehn, features re-purposed women's clothing embroidered with ambiguous sayings.
Boston's Target Cancer received a stunning quilt for their fundraiser: Fine hand embroidered each New England flower while friend and collaborator, Karen Case, did the piecing.
Her lucky great-niece Aviva received a magnificent quilt whose blocks contain the letters of the alphabet – with images corresponding to each letter.
Learn about Fine's numerous, decades-old collaborations with the following artists, in her own words:
On collaborator Joan Lockburner Deuel: Deuel makes art quilts and is an alumna of SUNY Plattsburgh (before I taught here) and came as a visiting artist at some point early in my tenure here. Find Lockburner Deuel here.
On fellow artist Liza Rudolph: Rudolph is an alumna of Syracuse University, where we both went for undergraduate school. She studied painting there but went on to do a lot of work in textiles and to work in the film industry in art direction and wardrobe etc. Find Rudolph here.
On fellow artist Kathy Kuehn: Kathy (Katherine) Kuehn (pronounced "keen") is the proprietor of the Salient Seedling Press, a book artist printmaker, and textile artist. We were in graduate school together at UW-Madison. I consider her a mentor as well as one of my dearest friends. We collaborated on the artist book Detours together.
On collaborator Mario Laplante: Laplante is an alumnus of UW-Madison where we met in graduate school. He and I have been collaborating without interruption for 35 years! Find Laplante here.
In this episode, find out:
her evolution from "all thumbs stitcher" to sublime embroiderer.
how her high school art class instilled her passion for printmaking
how central collaboration is to her art process
the importance of mentoring her students, both art and non-art majors
Join Diane Fine and me as we talk about her life, family – and collaborations with fellow stitchers and printmakers…
Find Fine at dianefine.com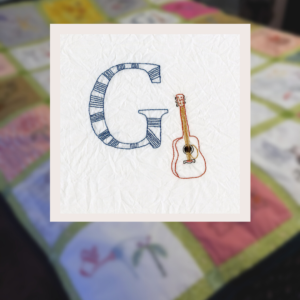 Diane Fine Statement:
I work primarily in two related art media: printmaking and the book arts. The seductive surface and sensuality of printmaking, the power and generosity of the multiple, and the physical and cognitive processes of this labor-intensive medium are a source of endless inspiration to me. In the last several years, drawing has become central to my studio practice as well. The drawings often have a printed element as part of the composition, and my approach, one of layering and repetition, is informed by my printmaking.
Bio:
Diane Fine is Distinguished Teaching Professor of Art at Plattsburgh State University of New York where she teaches printmaking and book arts. She received her BFA from Syracuse University and her MFA from the University of Wisconsin-Madison. Diane exhibits regularly and her work is represented in a number of public and private collections including The New York Public Library and the Yale University Art Gallery.

Hashtags:
#freeformembroidery #freeformquilting  
#embroideryart
#quiltart #artquilt
#storiedstitching #storiedstitchingpodcast  #storiedstitchingvideo #womenartists #stitchingpractices #womenartists #contemporarytextileartists
#creativepractice 
#dianefine #printmaking #womenprintmakers #suny_plattsburgh_art