Watch our video above OR listen to the podcast below!
"When I was waitressing or teaching I always wanted to be making art…" Fenny Suter
Fenny Suter always knew she wanted to be an artist.
As a child in Taiwan, she learned embroidery.
Suter's dream receded into the background until a student a Penn State. "I decided to put a portfolio together and applied to the School of Visual Arts.
Thankfully, she got accepted!
There, she began her journey making large-scale mixed media sculpture. As the Zoller Gallery manager, I got to get to know Suter and her work.

"Art teaching taught me the discipline of living an artist's life."
After earning her BFA at Penn State, Suter earned a master's of arts in teaching at Rhode Island School of Design.
Still, the frustrated full-time artist in her kept nagging.
"I thought for two years, at an elementary school with 600 students, then as a special ed teacher but I just didn't like art teaching."
During that time, Suter discovered needle felting – and fell in love.
Working small allowed her to complete works – and so began her journey on Instagram.
"If you scroll to the first post, my work was wonky."
Still, Suter remains a restless artist.
Always experimenting, she cautions that if something isn't working – "I just leave it – I put it in a box to keep it as a record. " Nothing is considered a waste. For her, all is a learning experience that eventually fuels new work.

"I like it a studio day to be predictable."
Suter, like a few artists featured on this podcast, first feeds her two cats: "Otherwise, they won't leave me alone!"
Then she works listening to podcasts, music, or YouTube videos.
Starting at eight and working usually till 10 or 11 at night depending on deadlines is her typical working window.
Although physically tired, Suter remains energized because she loves what she's doing.

"If you want to be an artist, don't give up."
Despite discouragement from family, Suter plods on, taking business and marketing courses.
"Persevere – Connect with trusted online artists – that's helped me navigate the challenges of being an independent businesswoman."
Join Fenny Suter and me as we discuss:
What success means to her
How to connect with trusted Instagram makers
The importance of copyright protection of your art
Her two cats: who make cameo appearances!
Find Suter at suterdesignco.com
Fenny Suter Bio:
Fenny Suter was born in 1991 in Taiwan. She moved to the U.S. as a child and received her BFA in Art at Penn State University in 2014. In 2016, she received her Master of Arts in Teaching from Rhode Island School of Design. She taught elementary school art and worked as a special education tutor for 2 years.
In 2018, she started Suter Design & Co., an artist studio through which she sells artworks to private collectors in the U.S., U.K., Spain, Australia, Hong Kong, and many other places. She combines different craft techniques, including embroidery, wool-felting, and punch needle to create tactile nature landscapes.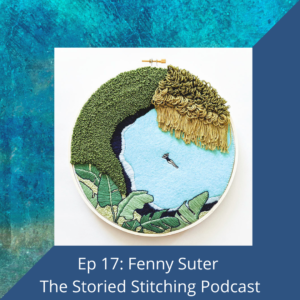 Her fiber artworks often feature aerial sceneries with a relaxed, floating figure, creating a transportive window to dreamy, tropical destinations. Her artworks were written about on My Modern Met, Byrdie Magazine, The Fiber Studio, and Brown Paper Bag.
Suter's work was most recently a part of a group exhibition in "Everyday Life, Everyday Art" at Cloud Croft Studios in Owego, NY.
Since starting her art studio, she gained a robust following on social media, including close to 20,000 followers on Instagram.
Suter currently lives and works in Vestal, NY.


Hashtags:
#freeformembroidery #freeformquilting  
#embroideryart
#quiltart #artquilt
#storiedstitching #storiedstitchingpodcast  #storiedstitchingvideo #womenartists #stitchingpractices #womenartists #contemporarytextileartists
#creativepractice 
#floataway #lazyriver #calm #peacefulplace #lushgreen #botanicalgarden #tropicaljungle #tropicalescape #tropicaldream #swimminghole #landscapeembroidery #3dembroidery #botanicalembroidery #handstitched #bananaleaf #aeriallandscape #fringe #landform #suterdesignco #fiberartistsofinstagram #texturedpainting #needlecraft