Watch our video above OR listen to the podcast below!
…no one in my family were artists per se but everybody made things. And we would all make projects.  My mother would get very enthusiastic…my mom made a lot of clothing…she taught me how to embroider, and that is something that I have still included and carry on in my work, I love that it's so portable…i've more recently incorporated machine sewing… I  got a new sewing machine….- Miriam Schaer
Miriam Schaer is a master of improv.
Schaer lives a life in service to art and friendship. Her work incorporates printmaking, bookmaking, dolls, and, more recently, knitting.
Pivoting is how Schaer has worked as an independent artist –  often diving into the unknown and creating what she calls "lucky breaks."
But I am convinced that because Schaer was willing to take risks, and trust that all would work out….it has.
I met Schaer when she was a keynote speaker at the Kutztown Art Education conference way back in November 2013. After her lecture, I ran to the lectern to meet her. We've been in touch, on and off, ever since…
Discover Schaer's provocative embroidered work…
I connected to Schaer's Babies (Not) On Board: The Last Prejudice? 
a series that explores the experiences of married women who do not have children.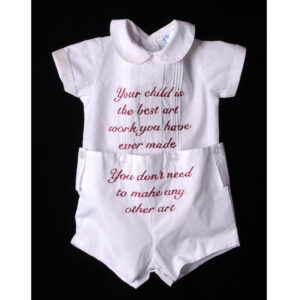 Schaer's embroidery skills shine in these pieces that reveal how the product of women's loins
often overshadows any of their intellectual or artistic achievements.
Many of the most accomplished women –  Virginia Woolf included –
had to deal with why they didn't have kids – a society blinded to their artistic genius!
Schaer has dealt with "childlessness" since her marriage.
She took what could've become bitterness or anger – and transformed it into a provocative, sublime art.
What astounds me is how people sometimes don't think at all about a couple's particular circumstances regarding
having/not having children… it's a choice, or it's a painful physical reality that denies them
fertility.
In this episode, we discuss:
her transition from musician to visual artist.
how her high school guidance counselor tried to derail her art career
how her relationship with NYC's Center for Book Arts has been central to her evolution
the importance of mentoring her students, both art and non-art majors
Join Miriam Schaer and me as we talk about her life, family – and her improv way of life…
Find Schaer at miriamschaer.com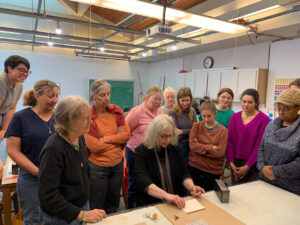 Miriam Schaer Bio:
Miriam Schaer, an artist, and educator based in Brooklyn, NY. She has exhibited steadily,
domestically and abroad, for more than three decades. Her principal work consists of artist books,
book-related sculptures and prints, embroideries, and multimedia projects that deal with feminist,
cultural, and spiritual issues. Her work is represented in numerous collections,
including the Yale Museum, Library of Congress, and
The Walker Art Center, and the Sallie Bingham Center for Women's History & Culture at Duke University.
Her work has earned a New York Foundation for the Arts Fellowship, and representation at the Cheongju International Craft Biennale in South Korea. In 2007, she was an artist in residence at the Bibliotheca Alexandrina in Egypt. Her series of works, Babies (Not) On Board: The Last Prejudice?, about social biases against women without children, was included in the International Museum of Women's MAMA-Motherhood Around the Globe in 2012. In 2013, Soros Foundation support enabled her to make artist's books with women's groups in the Republic of Georgia. She later returned to Georgia in 2017 as a Fulbright Scholar, where she established the Artist Book Collection at Telavi State University. In her first street performance, she participated in Art in Odd Places 2019: Invisible, focusing on older and marginal artists working today.

Hashtags:
#freeformembroidery #freeformquilting  
#embroideryart
#quiltart #artquilt
#storiedstitching #storiedstitchingpodcast  #storiedstitchingvideo #womenartists #stitchingpractices #womenartists #contemporarytextileartists
#miriamschaer #onawalk #paperweaving #papershawl #parkslopebrooklyn #miriamschaer #picturesfromapandemicwalk #motherartists #thebrooklynrail #robertrshane #kaylanbuteyn #qianamestrich