Hello there! Get cozy…
Stitchers – whether you're sitting in your comfy chair with your coffee, taking a break from your daily tasks, 
or looking for ENGAGING content teaching at a school or homeschooling—
We've got your stitched stories covered!
Get ready for an in-depth look at the role of sketchy sampler stitching, part 2!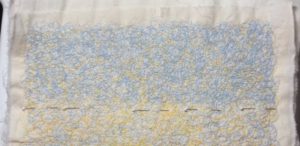 But before we dive deeper, let's get inspired!

Ready for inspo? Your motivation mantra?..
This is another quote from Los Angeles-based musician, Aimee Mann. When asked: 
How do you face the blank page (or screen)?
she answered 
".. I compose songs for my cat…it makes the songwriting fun…"  
Now THAT is an amazing strategy. 
If I think about WHO will see and JUDGE my work, I freeze up. Block. 
But if I start with:
"Laura you have a plan for what you want to do, but it's cool to experiment"
I'm ok. 
I begin with a sense of play rather than 'ART.' 
Like making a "sample" before diving into the final piece…Sample stitching…
So, start with "I am going to design and stitch something for my cat (or pet)….do it with devotion and love and see where it takes you…Sample stitch, let it go…
What is your sampler method? How do you overcome the "OMG people are gonna hate this" mentality?
Once I finally place my creative work at the TOP not the end of my long list of "other more important responsibilities…" 
I have a way to keep going if I stumble bumble….
So, this blog post is all about how to start and keep going.
______________________
Quote from  The Art of Process podcast, hosted by Aimee Mann and Ted Leo. >>Find it wherever you get your podcasts!
Share on Instagram, Facebook page, or in our private FB group, Storied Sewing Circle ( >>join here!)
Here's my "begin" story, part 2—What's yours?
Last week, I told you about the amazing unblocking strategies found in Bird by Bird by Anne Lamott. 
Lamott's "short assignments" get the juices going. 
For part two, we discuss her "sh**ty first draft."
Parents, we can rename it the sketchy first draft, ok?  
Lamott describes it:
"For me and most of the other writers I know, writing is not rapturous. In fact, the only way I can get anything written at all is to write really, really sketchy first drafts. (my edit)
The first draft is the child's draft, where you let it all pour out and then let it romp all over the place, knowing that no one is going to see it and that you can shape it later. 
You just let this childlike part of you channel whatever voices and visions come through and onto the page."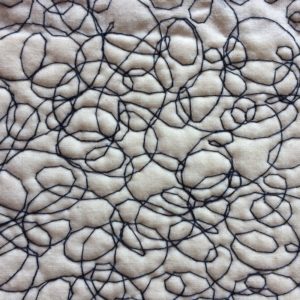 Lamott continues:
"So I'd start writing without reining myself in. It was almost just typing, just making my fingers move. And the writing would be terrible. 
I'd write a lead paragraph that was a whole page, even though the entire review could only be three pages long, and then I'd start writing up descriptions of the food, one dish at a time, bird by bird, and the critics would be sitting on my shoulders, commenting like cartoon characters. 
They'd be pretending to snore, or rolling their eyes at my overwrought descriptions, no matter how hard I tried to tone those descriptions down, no matter how- conscious I was of what a friend said to me gently in my early days of restaurant reviewing. 
"Annie," she said, "it is just a piece of chicken. It is just a bit of cake."
But because by then I had been writing for so long, I would eventually let myself trust the process–sort of, more or less.…"
The next day, though, I'd sit down, go through it all with a colored pen, take out everything I possibly could…and then write a second draft. It always turned out fine, sometimes even funny and weird and helpful. I'd go over it one more time and mail it in.
Then, a month later, when it was time for another review, the whole process would start again, complete with the fears that people would find my first draft before I could rewrite it.
Almost all good writing begins with terrible first efforts. You need to start somewhere. Start by getting something—anything–down on paper…"
———————
I totally relate the sketchy first draft to Aimee Mann's cat song compositions. 
The goal behind both of these methods is: start, get something down, edit or completely revise. 
Sampling your stitching or writing before the next step! 
Get it done quick schemes rarely work. 
Take Aimee's or Anne's advice: cats or sketchy drafts….
Now, think about YOUR sketchy first stitchings story…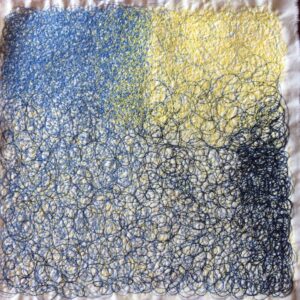 What's my sketchy cat composition process?
The free-form sampler above is an example of a purely experimental sketchy "cat song" of Aimee Mann's! Unresolved. But I wanted to try out different colors on a small square, as is done in a traditional pieced quilt….
But here's my process:
I'll have an idea and make a small pencil sketch in my journal, graph paper sketchbook, or on a scrap of paper. Later, I'll transfer any rogue drawings into my graph paper sketchbook as a way to organize them. 
Then, if I feel the need I'll do a basic watercolor or pencil sketch to test colors and the composition. Of course, thread is a lot different than wet or dry media..
 but it still gives me a sense of what to expect color-wise.
Once this is done, I look at my thread supplies. 
Do I have the right colors? Do I need to order some? How about specialty threads?
I turn my sewing machine on!
I assemble the supplies that I need: thread colors, muslin, batting… 
And I sample. Sample. 
Some of these samples actually turn out to be finished work, but I try not to think about that.
Why the longish sketchy process?
Because I can! 
Because I'm not in a degree-granting art program anymore –  nor am I selling my artwork to keep food on the table!
My stitching/samplers inform my teaching and curricula designs. If I exhibit and sell the work— that's just an added bonus!
Try to get your mind out of the Perfect Stitch and into the Sampler Stitch! Really let it rip!
And see what happens!
What is YOUR method(s) of sketchy stitching sampling?
Share on Instagram, Facebook page or in our private FB group, Storied Sewing Circle ( >>join here!)

Hey hey! References for educators and….. nerds!
Want more juicy info? Check out the refs below! Indulge in your LOVE of all things "stitch!"
Bird by Bird: Some Instructions on Writing and Life, by Anne Lamott. New York: Anchor Books, 1994. >>Find it here.
The Art of Process podcast, hosted by Aimee Mann and Ted Leo. >>Find it wherever you get your podcasts!
[This post may contain referral-affiliate links. If a purchase is made, I may receive a small commission at no extra cost to you.]
___________________________________

Why the School of Storied Stitching?
For me, needlework is a deeply meaningful form of personal expression that I want to share.
The sewing circle is a way to connect with fellow stitchers – and to remember those who are gone…