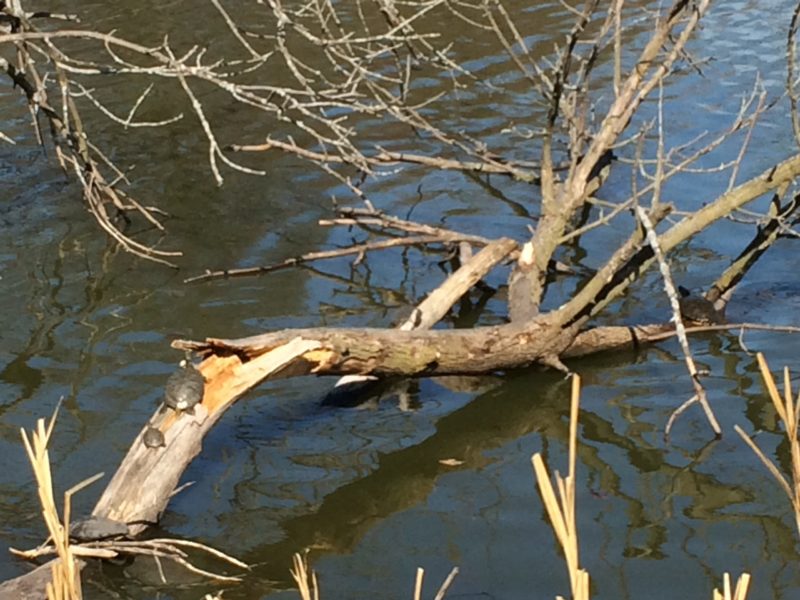 Over two dozen Turtles were sunning on fallen tree trunks in North Pond! (In the photo, see three, bottom left)
There they were – babies too – so tiny! Their wrinkled heads soaked in the Divine Store of vitamin D. I watched one dive into the cold water. The turtles consoled me for hearing but not seeing the just arrived red-winged blackbirds.
I paused, watching the family of turtles barely moving, so perfectly camouflaged that one had to catch the sudden shifting shining surfaces of shells, tiny balloon heads attached to soft necks, their clawed feet suctioned to the dead bark below.
But I knew the red ring blackbirds wouldn't disappoint me. I approached the low lying trees at North Pond's entrance, just feet from the busy intersection of Fullerton and Stockton. There amid dozens of chirping sparrows, I first heard, then saw, one red wing. I stood in the full flood of a dazzling sunlit Lincoln Park, Chicago skyline behind me, grateful for every moment of this early spring day.
Happily, I walked home. I sauntered past the conservatory, the bare but formal French-designed gardens soon to be full of flowers, the zoo, and finally to Dearborn Street. I ran up two flights of stairs to my corner apartment where I write facing west, a slice of sunlight streams in between two tall apartment buildings onto my desk, my hands.
Energized, I begin to sketch to plan my first-course offering that will feature the blues and yellows of this brilliant day.
19 March 2020, 4:20 PM
The world changed a week ago today. My last meeting was with a student concerning her student placement for next fall at 4:30 PM. Afterward, the tsunami of emails about school closings online teaching and social distancing began…
A week later, I realize just how much of a solitary shut-in lifestyle I lead but also how much I depend upon random human interactions! I'm disheartened at the long faces, the hoarding ( I've yet to find/buy one 4 pack of toilet paper) – and the paranoia.
 That aside, I am excited about organizing my scholarly archives. It wasn't easy – 2 days of relentless editing and sorting, but here it is! 
My research, writing, images, and ideas that I'll use in my school. I forgot about it after I stashed it in a dark closet, waiting to be rediscovered and shared as content in a blog post or a lesson.
Onward to unit and class activity planning – and sewing samples— work that demands a focused, solitary life, the artist's life. 
So, be safe, be kind, be compassionate to all, and
remember the turtles!
Peace and Friendship!
PS: Have you ever retreated? Share on my Facebook or Instagram page.
Have a blog?  Write your answer and link to this post. Thanks for sharing!
The School of Storied Stitching | Histories of Women's Work through Improv Sewing